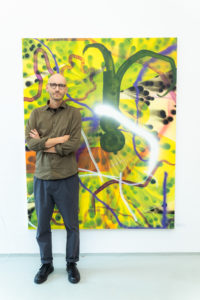 SOLO EXHIBITIONS
2023
Molski Gallery, Poznań (upcoming)
2022
Znikanie/Disappearing, BWA Gallery, Warszawa
Znikanie/Disappearing, BWA Gallery, Jelenia Góra
2021
Znikanie/Disappearing, Rodriguez Gallery, Poznań
2019
Stratum, Łęctwo, Poznań
2018
Sebastian Krzywak, the Gallery of the CoCA collection, Centre of Contemporary Art (CSW) in Toruń
Flatten Image, Municipal Gallery bwa in Bydgoszcz
2017
Samoregulacje/Self-regulations, Nowa Gallery, Poznań
2015
Fall(Synthetic), AK 30, Poznań
2014
36,6/2, Nowa Gallery, Poznań
36,6, Nowa Gallery, Poznań
2011
Painting, MBWA Gallery , Leszno
Painting, Nowa Gallery, Poznań
2010
Painting, Wieża Ciśnień Gallery, Konin
2009
Salted Candy, Nowa Gallery, Poznań
Prora, Old Slaughterhouse, Poznań
2007
Uchome, Starter Gallery, Poznań
2005
Excerpts, Old Slaughterhouse, Poznań
2004
Painting, Promotion Gallery PKO BP, Poznań
GROUP EXHIBITIONS
---
2023
Muzyka Sfer, Duża Scena UAP, Poznań
OBLICZA OBRAZU, Duża Scena UAP, Poznań
2022
DIE GESICHTER DES BILDES, art.endart Gallery, Berlin, DE
Remedium, Wołyńska 9 Gallery, Poznań
2020
17th International Vilnius Painting Triennial [UN]DETERMINED, Museum of Applied Arts and Design, cultural space "Smoke Factory", Wilnius, LT
2019
11th Triennial of Small Size Painting, Wozownia Gallery, Toruń
The Palace of Art. Young Polish Painting, The National Museum in Gdańsk
VERSUS, MBWA Gallery, Leszno
2018
Labyrinth.Works from the CoCA collection in Toruń, Kasarne/Kulturpark, Košice, SK
Three studios, BWA Gallery in Jelenia Góra
2017
Explorations and reinterpretations, BWAiUP Gallery, Piła
What about abstraction?, Gierowski Foundation, Warsaw
No Budget Show 9, former Psychiatric Hospital in Owińska near Poznań
2016
25rd Festival of Contemporary Painting, Pomorski Knights Castle, Szczecin
10th Triennial of Small Size Painting, Wozownia Gallery, Toruń
Finissage, Rodriguez Gallery, Poznan
2015
Showroom: Buczkowska / Jarema / Krzywak, Nowa Gallery, Poznań
Andrzej Leśnik / Sebastian Krzywak, Rotunda Gallery, Poznań
Showroom, Nowa Gallery, Poznań
2014
Showroom, Nowa Gallery, Poznań
Pure, Nowa Gallery, Poznań
2013
Identyfications, Miejsce Sztuki 44 Gallery, Świnoujście
No Budget Show 5% , Dom Kolejarza, Lublin
9th Triennial of Small Size Painting, Wozownia Gallery, Toruń
An Evening at the Gallery, ON Gallery, Poznań
2012
Exhibition, Nowa Gallery, Poznań
2011
40th Painting Biennale – Bielsko Autumn, BWA Bielsko Biała Gallery, Bielsko Biała
2010
Remake, Nowa Gallery, Poznań
Dirty Flowers, Leto Gallery, Warszawa
Dirty Flowers, Starter Gallery, Poznań
2007
Closed Circuit, Modena Factory, Poznań
2006
Playground, Ratajczaka 19, Poznań
2005
Items-spaces, PWW Gallery, Zielona Góra
An Exhibition of the Winners of the Maria Dokowicz Competition, Old Slaughterhouse, Poznań
An Exhibition of the Faculty of Painting, AFA Poznań, Zamek Górków Gallery, Szamotuły
An Exhibition of the Faculty of Painting, AFA Poznań, U Jezuitów Gallery, Poznań
2004
"TerRa POLSKA!" art festival, Kulturbrauerei, Berlin, DE
LOCATION
---
Born 1979 in Zielona Góra, Poland
Lives and works in Poznań, Poland
EDUCATION
---
2000 – 2005
Academy of Fine Arts, Poznan, Poland
Studied Painting at the Academy
of Fine Arts in Poznań, graduated in 2005 under Prof. Włodzimierz
Dudkowiak.
AWARDS & GRANTS
---
2009
Salted Candy Award
Nowa Gallery, Poznań, PL
2004
BZ WBK Bank scholarship, Poznań, PL
COLLECTIONS
---
Centre of Contemporary Art Znaki Czasu in Toruń
National Museum in Gdańsk
ZW Foundation, Toruń
Krupa Gallery Collection, Wrocław
Molski Gallery Collection, Poznań
Private Collections
ARTIST STATEMENT
---
Od kilku lat najbardziej interesują mnie warstwy obrazu. Żeby były widoczne, pracuję etapami. Często przez zamalowywanie i wymazywanie czyli odsłanianie kolejnych warstw. Te metody niosą ze sobą pewien rodzaj destrukcyjnej siły, agresji i wandalizmu. Z drugiej strony, organiczne formy i kolory które wynikają z tego procesu, mogą być w pewien sposób piękne i właśnie to jest siłą napędową mojego malarstwa. Fascynuje mnie połączenie dwóch pozornie przeciwstawnych pojęć: niszczenia i tworzenia, destrukcji i budowania.
For a number of years I have been using predominantly two methods in the painting process: overpainting and erasing. In my case, overpainting and erasing involve a certain kind of destructive force, aggression and vandalism. On the other hand, I still believe that it is possible to create beautiful paintings and this actually is the driving force of my painting. I am fascinated by the combination of seemingly contradictory notions of breaking and creating, destroying and building of paintings on the basis of one's own understanding of beauty, where the organic forms interlace with elements drawn from digital reality.
PRESENTATION OF WORKS
---
Download a presentation in PDF